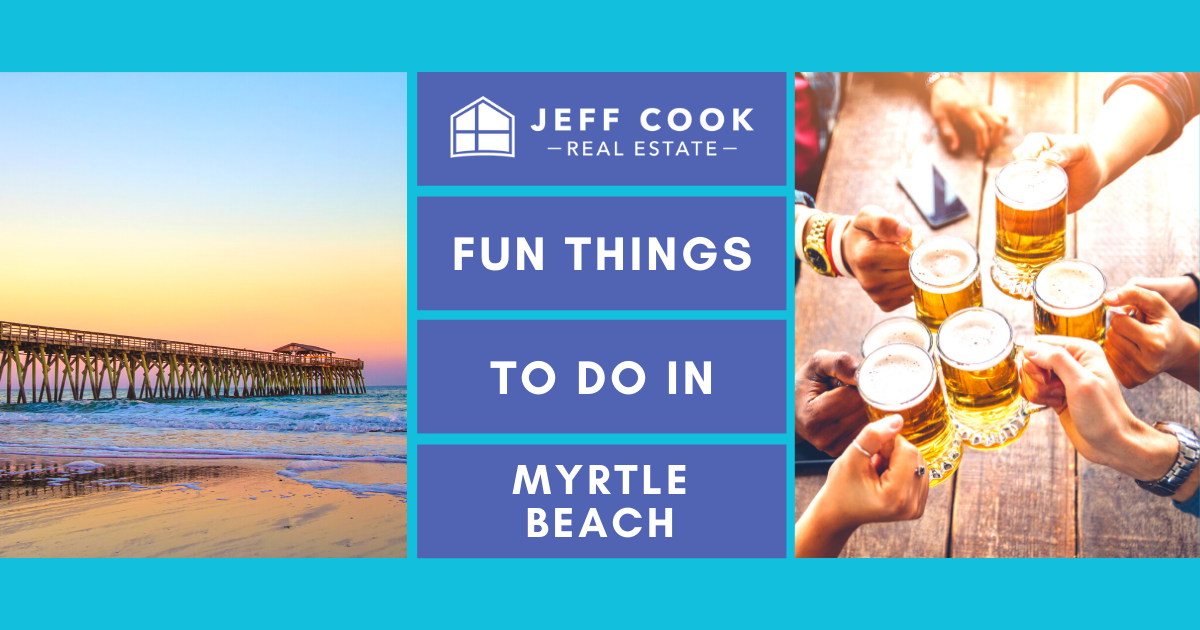 Best Things to Do in Myrtle Beach: Myrtle Beach, SC Activities & Recreation Guide
People who live in or visit Myrtle Beach often rave about its appeal, which isn't surprising. Between the beautiful scenery and year-round pleasant temperatures, residents and visitors alike quickly discover Myrtle Beach isn't just a destination — it's a lifestyle.
With more than 60 miles of continuous sandy shoreline, the ocean is undoubtedly one of the biggest draws to Myrtle Beach, but the appeal of the region is more than that. People find there is no shortage of outdoor activities, shopping, restaurants, or arts and culture. With all there is to see and do, visitors can easily live like a local and residents can live like a tourist.
Myrtle Beach Outdoor Adventures
With an average daily temperature of 74 degrees, the mild weather in Myrtle Beach means there are plenty of year-round outdoor activities to enjoy. Outdoor enthusiasts most certainly won't get bored with the numerous places to explore. Between the parks, beaches, gardens, golf courses, and other recreational activities, the variety of leisurely fun in Myrtle Beach cannot be understated.
Parks
Parks in Myrtle Beach
Plyler Park
Myrtle Beach State Park
Chapin Memorial Park
Barc Parc South
Myrtle Beach State Park is nestled along the Grand Strand coastline among maritime forest and is a welcome respite. With one mile of pristine undeveloped beach, Myrtle Beach State Park is a unique entity in a heavily developed area. Visitors to the park can enjoy nature trails, picnicking, fishing, and camping. Furry pals love romping around in one of the several dog parks, and two of them, Barc Parc North and Barc Parc South, are off-leash. Historic gardens are plentiful in coastal South Carolina, and just 17 miles south of Myrtle Beach is Brookgreen Gardens, a privately owned garden often referred to as one of the best botanical gardens in the United States.
Water Recreation
Water Activities in Myrtle Beach
Swimming
Fishing
Jet skiing
Parasailing
Boating
Water recreation is plentiful in Myrtle Beach. Of course, many flock to the gorgeous shoreline at one of its numerous public beach access points, but water fun can be found in many forms. People can go on a boat ride (or a pirate cruise), rent jet skis, embark on a dolphin tour, take an adventurous backwater tour, or test their skills with parasailing. For those who prefer to stay on land, one of the several splash pads or water parks easily fits the bill for water fun. Myrtle Waves Water Park offers plenty of water-based entertainment, giving visitors a variety of ticket options, including daily, twilight, weekly, or annual passes to choose from.
Hiking & Biking Trails
Trails in Myrtle Beach
Horry County Bike Run Park
A-10 Mountain Bike Trail
NMB Nature Trail
Jack O. Walker East Coast Greenway Trailhead
Many outdoor enthusiasts like to keep moving as they explore their surroundings. Hiking, biking, walking, and jogging paths are found throughout Myrtle Beach. Sure, people can stroll along the beach, but there are also pristine off-the-beaten-path places for people to enjoy either by foot or cycle. They can take a short stroll along the Heritage Shores Nature Preserve or explore the 72 acres of land nestled along the Intracoastal waterway at the Horry County Bike & Run Park (referred to by locals as "The Hulk")—very suitable for adventurous hikers and bikers. The North Myrtle Beach Sports Complex is a one-stop place for outdoor fun with its 25-acre lake and 3.5 miles of trails to explore. The historic Vereen Memorial Gardens is located north of North Myrtle Beach, a short drive to Little River, and features more than 100 acres of natural scenery for quiet biking and hiking outings.
When talking about outdoor adventures, it must be mentioned that Myrtle Beach is often referred to as the golf capital of the world, with more than 100 golf courses and dozens of mini-golf courses. In a nutshell, whether one prefers a quiet and serene outdoor experience or a heart-stopping adventure, there is no lack of options in Myrtle Beach.
Shopping Centers in Myrtle Beach
The Market Common
Coastal Grand Mall
Myrtle Beach Shopping Center
Myrtle Beach Mall
Broadway at the Beach
Myrtle Beach hosts a vast array of malls, strip malls, outlet centers, and boutiques. People can shop at well-known chain retailers or look for those one-of-a-kind stores owned by a local. They can do serious shopping or go deal-hunting at the Coastal Grand Mall, or explore the popular branded stores at The Market Common. When they are finished or need to take a break, shoppers can sit down to relax on one of the benches and rocking chairs overlooking scenic landscape while listening to the piped-in music.
Customers seeking a diverse and unique type of shopping experience will find that and much more at the highly popular Broadway at the Beach and Barefoot Landing centers. Many people don't feel their shopping excursions are complete without an outlet center option. Myrtle Beach doesn't disappoint, as there are two Tanger Outlets in the city: one located on Highway 17, the other Highway 501.
Myrtle Beach Restaurants
Restaurants in Myrtle Beach
Hook & Barrel
Sobaya Japanese Bistro
Aspen Grille
Carolina Roadhouse
Cafe Old Vienna
Most people think of sandy shorelines when they think of Myrtle Beach, but the city is also rapidly becoming famous for its restaurants. Statistically speaking, Myrtle Beach has more restaurants per capita than Paris and New York City. With more than 1,700 restaurants, people can enjoy a variety of culinary delights that range from regional cooking to ethnic dishes from other parts of the globe. Those craving Italian can check out Villa Romana Italian Restaurant on S. Kings Highway. To experience local Southern flavor, Carolina Roadhouse is quite popular. If looking for classic seafood and steak dishes, people shouldn't miss out on what Hook & Barrel has to offer.
Dinner isn't the only meal in town, as there are numerous restaurants dedicated to breakfast, along with several pancake houses. There is no lack of food options throughout the Grand Strand.
Arts & Culture in Myrtle Beach
The Grand Strand is home to several historic museums, art galleries, theaters, and more. Those interested in arts and culture will quickly discover there is plenty to do and see throughout the city to tap into one's inner curious or artistic side. People can learn about the fascinating regional history at one of the museums, discover art in one of the city's galleries, or attend a performing arts event.
Museums
Museums in Myrtle Beach
Hollywood Wax Museum
Wheels of Yesteryear
North Myrtle Beach Area Historical Museum
Ripley's Believe It or Not!
The museums in Myrtle Beach are quite diverse, and one won't have to look far to find something of interest. EdVenture Myrtle Beach offers fun and learning for all ages. Warbird Park resides on a former U.S. Air Force base, where visitors can view aircraft and learn about the rich military history in the area. For a fun outing and hands-on experience, people can check out the Myrtle Beach Pinball Museum to journey back to the 1970s, 80s, and 90s. Other popular museums to meet a variety of interests include the South Carolina Hall of Fame, Hollywood Wax Museum, and Wheels of Yesteryear.
Art Galleries
Art Galleries in Myrtle Beach
Seacoast Artists Gallery
Master Editions Broadway at the Beach Gallery
Franklin G. Burroughs-Simeon B. Chapin Art Museum
William H. Miller Studios & Fine Art
Art enthusiasts won't want to miss out on the Franklin G. Burroughs - Simeon B. Chapin Art Museum, which is dedicated to showcasing the finest in visual arts. With rotating exhibits highlighting renowned national and regional artists, there is always something new and exciting to see for all ages. Those seeking to purchase a piece of art to display in their homes can visit the Master Edition's Fine Art Gallery or the Seacoast Artists Gallery located at the Market Common. To discover the latest art happenings, the Arts Grand Strand maintains an event calendar.
Dance & Theatre
Performing Arts in Myrtle Beach
The Carolina Opry
GTS Theatre
Gilmore Entertainment
Alabama Theatre
Dance and theatre are a staple in Myrtle Beach with numerous ongoing shows. People can see NYC Broadway or D.C.'s Kennedy Center caliber theatre or discover up-and-coming talent – right on the beach. Top places to see a show include the cabaret-style GTS Theatre, Atlantic Stage showcasing a group of professional resident artists, the Coastal Youth Ballet Theatre highlighting younger talent, and the Long Bay Symphony featuring delightful orchestral music. The Grand Strand also houses a number of other popular live theatres, including Alabama Theatre, Pirates Voyage, Asher Theatre, and the Carolina Forest Performing Arts Academy.
There is no shortage of arts and culture in this city. The above is only a sampling of the many ways to experience history, visual arts, and performing arts in Myrtle Beach.
Myrtle Beach Nightlife
Bars and Clubs in Myrtle Beach
Bumstead's Pub
8th Ave Tiki Bar & Grill
Pulse Ultra Club
The Bowery
STATUS Nightlife
The beaches are popular during the day, but Myrtle Beach should not be mistaken for a sleepy beach community. The city perhaps comes even more alive at night. With plenty of live music, dancing, nightclubs, and other venues, people who prefer nightlife will find plenty of ways to spend an evening.
Established in 1944, The Bowery offers good food, drink, and live music. Fun fact: the Country Hall of Fame country music band, Alabama, got its start here. Crocodile Rocks Dueling Pianos is great for food and a lively show. Teens can have fun at Club Karma.
The nightlife is also plentiful along the shore and at the popular Broadway at the Beach and Barefoot Landing locations.
Visit Myrtle Beach
Whether someone is visiting or looking to relocate to Myrtle Beach, they should have a plan when they come to explore the area. Visitors and future residents should make a list of the places they want to see, places they want to dine at, and the things they want to do. Many people coming to the region often seek the help of a real estate professional for their short-term and long-term rental needs. Those looking to buy can contact a local agent to advise and guide them to their dream home.